Ms Bumi Fred Mwaisaka, LL.B. (Dar), PGDLMA (Dar), LL.M. (Dar);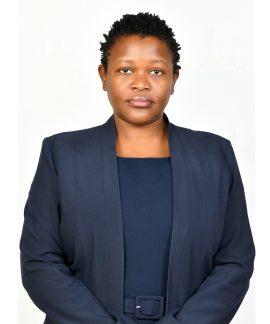 Bumi Mwaisaka is the Managing Partner of the firm. She holds a bachelor of laws (LL.B) from university of Dar es Salaam, Postgraduate Diploma in Law (Mediation & Arbitration) from the Institute of Social Works and Master's Degree (LLM) in Commercial and Corporate law from the University of Dar es Salaam.
She is an Advocate of the High Court of Tanzania, and Courts subordinate thereto. She specializes in land, company, commercial, Finance, banking, insurance, competition, labour and investment laws.
She worked as an Assistant Registrar of Titles at the Ministry of Lands for fourteen years. As an Assistant Registrar of Titles she was involved in registration of landed titles (including condominium titles), transactions and legal documents, land disputes resolution, development and review of Laws, negotiations of bilateral agreements and drafting of contracts.